A Bethesda, Maryland-based pet technology company has been accepted into one of the premier startup accelerator programs for the pet care industry.
Dr. Cuddles, a company that aims to empower pet owners to take better care of their pets through trusted education and innovative products, was one of six startups selected for the 12-week Leap Venture Studio accelerator program, which was founded in 2018 by pet industry giant Mars Petcare and the non-profit Michelson Found Animals.
The accelerator program provides USD $200,000 in initial funding and access to industry experts, investors, and mentors from companies including Mars Petcare, Michelson Found Animals and R/GA Ventures, a venture funding platform.
The hybrid, in-person/online accelerator also provides startups with access to resources, mentors, networking opportunities and brand marketing services specific to their needs.
Leap Venture Studio has successfully accelerated 40 companies to date, helping them raise USD $170 million in follow-on capital, USD $100 of which raised in 2021 alone.
The accelerator has also helped lead two startups to successful exits: Lacuna Diagnostics (now part of Heska), offers digital pathology services for the veterinary market; and Pet Hospice (now part of Blue Pearl), a service providing comfort and care to pets and their families near the end of the pet's life.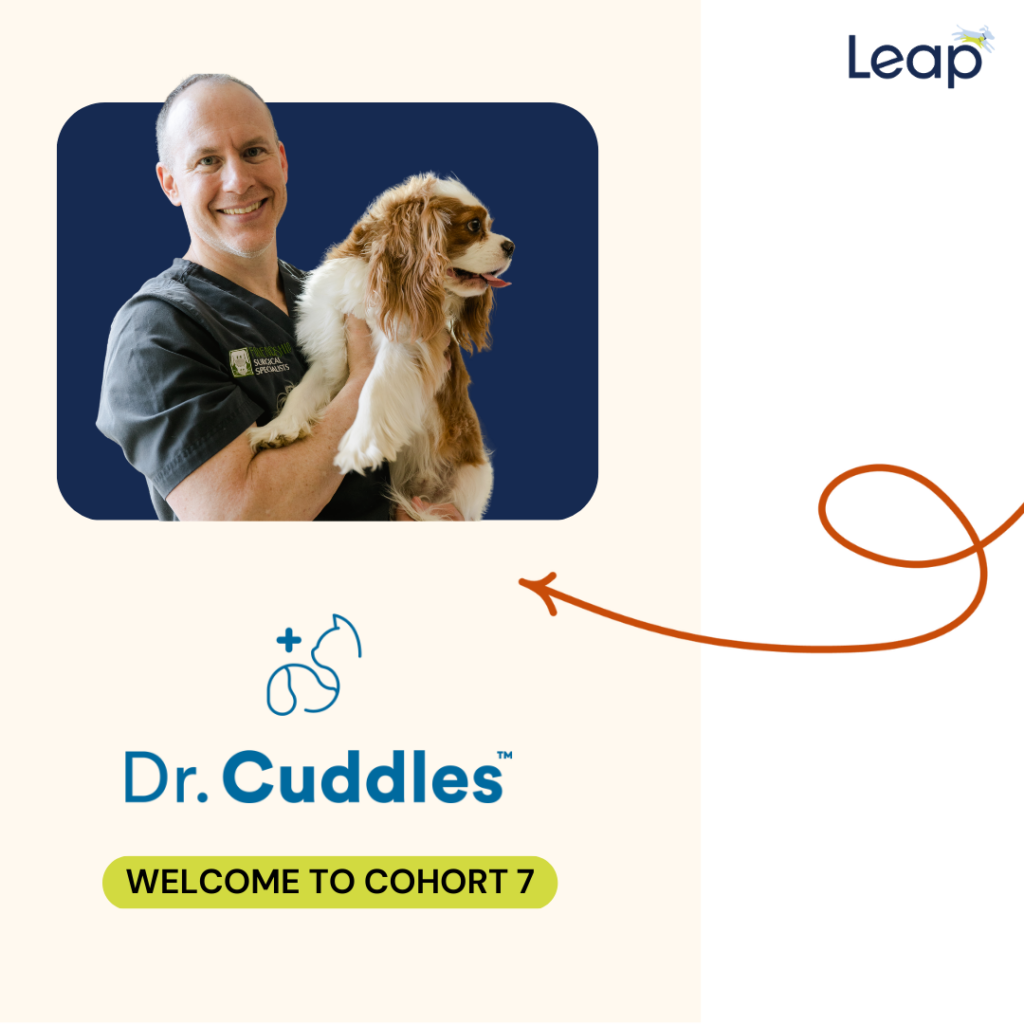 Dr. Cuddles, the brainchild of a Maryland veterinarian
Dr. Mathieu Glassman, VMD, DACVS, MBA, is the founder and CEO of Dr. Cuddles.
After spending many years attending to pet emergencies as well as non-emergencies, he set out to create a platform that empowers pet owners to take more control of their pets' overall health.
Through education and innovative products, the subscription-based platform aims to help reduce the amount of visits to pet emergency rooms for treatable illnesses that pet owners, with a little more education and support, could handle themselves at home.
According to Dr. Glassman, he launched Dr. Cuddles to, "Amplify my ability to affect change in pet's and pet-parent's lives. The change that needed to happen was a fundamental improvement in the way we care for our pets."
If his experiment works out, Dr. Glassman hopes that pet parents will be less beholden to veterinarians for treatable conditions that are manageable with a bit more education and access to the right products.
Other companies selected for the Leap Venture Studio program
In a press statement, Rachel Sheppard, Director of Ventures at Mars Petcare and co-lead of the Leap Venture Studio & Academy said, "This year's cohort is a great mix of industry segments. We have companies working on scaling diagnostics and at-home pet health care, nutrition brands putting the planet and women founded businesses at the forefront of their business model, and a D2C platform bringing solutions to pet parents in Costa Rica."
Joining Dr. Cuddles for the accelerator program are startups from Ireland, Costa Rica and the US, including:
Bundle x Joy: A startup on a mission to deliver premium nutrition, curated product bundles, and endless joy to every dog person. The female-founded company is purpose driven, giving 3% back to fund women in entrepreneurship and their local communities, according to their website.
Tobipets.com: A one-stop-shop that connects pet brands, services, and vets with pet parents. The Costa Rican startup is a full-scale marketplace for everything pet related, helping to service what the US Department of Agriculture has called a "booming" Costa Rican petcare market.
Blue Pet Co: A company making a range of clean, marine-powered dog supplements, enriched with seaweed extracts designed to meet a dog's specific health needs, naturally and sustainably. Based in Ireland, the company works with a collective of seaweed harvesters to procure their ingredients.
Oncotect: A biotech startup committed to pioneering early screening of cancer risks in dogs using their urine. The company aims to replace expensive and invasive detection methods such as blood samples, biopsies, ultrasounds, CTs and MRIs with quick, inexpensive urine sampling.
MI:RNA: A veterinary diagnostic testing company using cutting edge science and artificial intelligence to diagnose disease in the early stages to help vets care for our pets. Founder and CEO Eve Hanks is a veterinary surgeon on a mission to help speed up early detection of disease amongst our furry friends.
After the 12-week program is over, the cohort will culminate with a Demo Day on June 8 in Nashville, Tennessee. The Demo Day will be broadcast live on YouTube for those interested in attending.
Disclaimer: This article mentions a client of an Espacio portfolio company.