Earlier this week, yet another digital currency called HoweyCoin appeared on the crypto landscape. Touted as "the only coin offering that captures the magic of coin trading profits AND the excitement and guaranteed returns of the travel industry," HoweyCoin boasts a litany of rather bold claims:
one of the largest cryptocurrency platforms ever built

redeemable with all segments of the travel industry, including airlines, hotels, and car rentals

"OVER 1% daily returns"

a minimum growth rate of between 7% to 15% annualized

speculation that 72% return over a two-month period in 2017 could be surpassed before the "Tier 2" offering closes

"GUARANTEED" hedge against inflation and market loss
Sound too good to be true? Or complete nonsense? That's because it is. There is no "HoweyCoin."
'Punk'd' (for a Purpose) by the SEC
The HoweyCoin website was created by the Security and Exchanges Commission (SEC) and is meant to be a warning about the risks of being defrauded when investing in cryptocurrencies.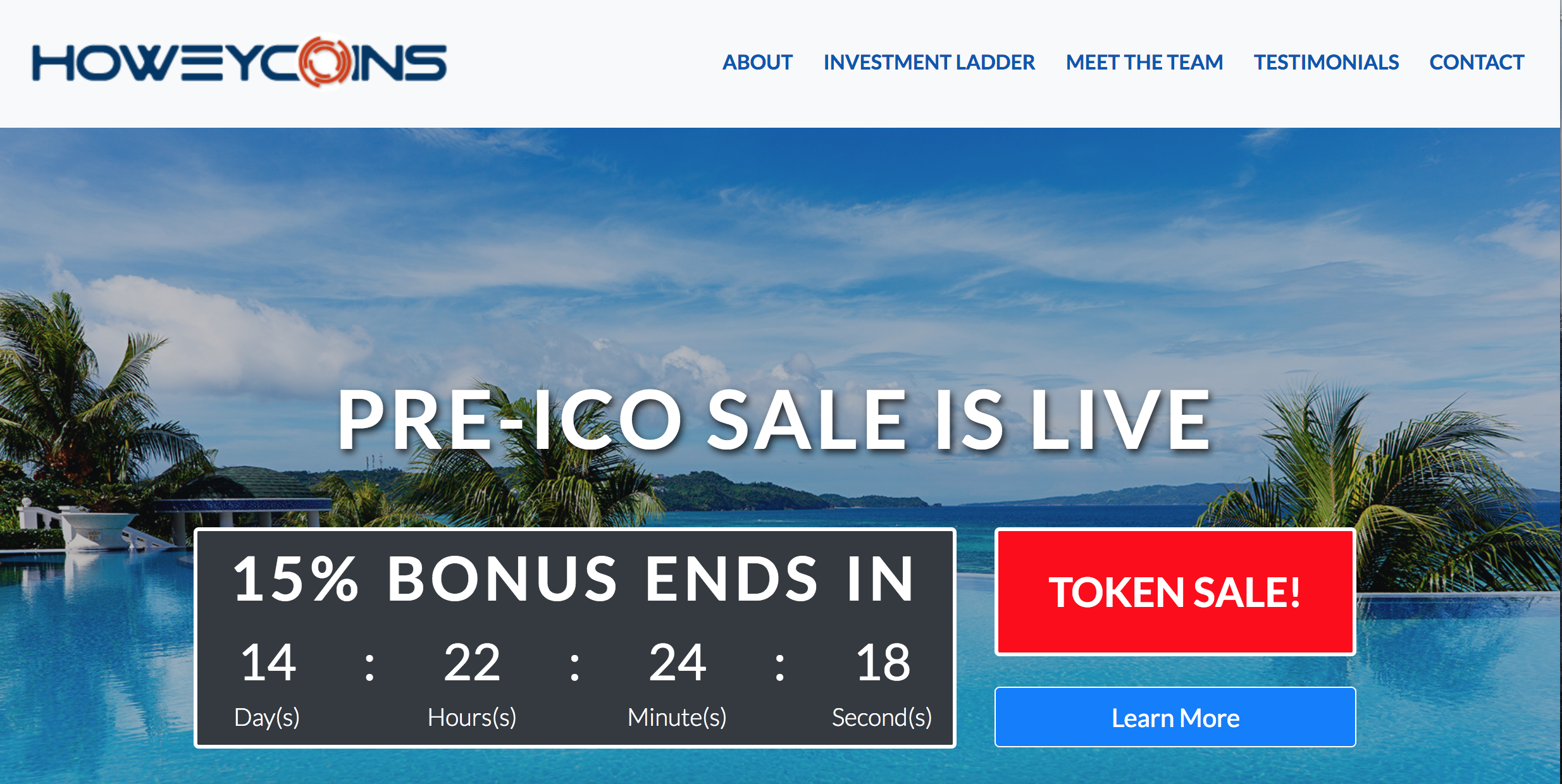 "HoweyCoin" has all the hallmarks of a typical cryptocurrency scam: promises of guaranteed returns, celebrity promoters, cryptic language promoting its platform, vague lifestyle insinuations. The website design is sleek, and at cursory glance, it appears legit. It even has a downloadable white paper in .pdf format where investors can review the specs of HoweyCoin.
But then certain things, like the section showing off the HoweyCoin team, come off fishy, to say the least:

The look on the face of "Head Architect Josh Hinze" says it all.
But as much of a chuckle as the HoweyCoin website has given visitors (or perhaps, a temporary head rush to lazy readers), it's a powerful teaching tool for any investor, crypto- or otherwise: Crypto scammers abound. Tread lightly.
Where There's Opportunity, Opportunism Follows
There's already been 28% more capital invested in initial coin offerings (ICOs) in 2018 than all of 2017 — that's over $7 billion in less than five months, with the average ICO in 2018 pulling in more than $26 million.
The buzz behind cryptocurrencies is by no means unfounded. For even the most ardent cryptocurrency skeptic, the possibilities of block chain technology are compelling: decentralization, transaction transparency, reduced identity theft… and perhaps eventually, even widespread adoption as a currency as a store of value. People who invest in ICOs are betting on that reality to come to fruition.
In such a new, unregulated space that's still opaque to a lot of people from a technical standpoint, there are myriad ways for scammers to take advantage of investors hoping to strike it rich. Phishers create pages that mimic actual cryptocurrencies, hackers take advantage of security weaknesses on cryptocurrency wallets…
But the most extreme example is the creation of a fake cryptocurrency — such as the SEC's HoweyCoin. The SEC, of course, did not defraud anyone of their money. The "offer" links on the site lead to a page warning investors of the dangers of poorly-researched cryptocurrency investments. One such incident in Vietnam enabled scammers to make away with some $660 million from tens of thousands of people in an elaborate scheme that involved several levels of marketing and outreach.
The idea of not investing in something unless you've done your research, of course, is as old as investing itself. The ubiquity and hysteria of cryptocurrencies has simply made it easy for opportunists to swindle folks who don't this most fundamental investment practice.
Lesson learned? As the adage goes, if it seems too good to be true, it probably is.
This article originally published on The Bitcoin Mag.